Feedback from pet owners who have used our services

Arthurs trip from Ireland to Canada. I 100% recommend Pets on Board to anyone thinking about relocating a pet. Their professional staff, knowledge and genuine care for animals is extraordinary. I cannot thank them enough, after having contacted a few companies regarding relocating pets, Pets on Board were the only company that got back to us straight away, answering every email & every phone call with numerous amounts of anxious questions easily & professionally. Their consistent communication & regular/daily updates helped us so much – they kept us informed & reassured every step of the way & this was such a relief as it is such a worrying & stressful time when flying your pet (especially when your pet is your family). Ally & Siobhan at Pets on Board took care of Arthur like he was their own. Siobhan even boarding him at her own home for 2 nights. I cannot recommend this company enough. We purchased a personalised crate from pets on board a few weeks prior to flying to suit Arthur's size & invested time into crate training to ensure he was comfortable & I believe this helped a lot with the overall travelling process. He still goes into his crate even now after his journey and this re-assures us that he received great care throughout his travels. We also flew with Lufthansa who have great reviews for their specialised animal care facilities. Even with a flight delay – Arthur was the priority to Pets on Board who went back to Dublin airport to pick him up straight away & kept him at their office (Right by Ally's desk) until he was rescheduled onto the next available flight – this kind of care for animals is second to none & we cannot thank them enough for getting our boy here safe & sound. First class service, they truly care for your animals!! Tracey & Jonathan
What a wonderful team that handled the shipment for my two dogs from New York to Dublin and they driven to Dungannon, Co Tyrone. Siobhan handled everything for me in regards to vets, flights, documentation. She kept me updated daily and reassured me when I was worried. Lewis drove the two dogs from Dublin and truly one of the nicest people you could meet. Dogs arrived happy and content due to the great care received. I highly recommend their service to anyone that has to move their loved pets. Great people and I cannot thank them enough!
Cannot recommend this service enough. Pets on Board helped me immeasurably through the process of getting Fynn the cockapoo to Canada. I had contacted a few freight companies about Fynns travel – not knowing much about the process – and Pets on Board were the only ones who made me feel comfortable, valued and supported throughout the process. They answered all my questions with such patience and care, responded quickly and never once made me feel silly for not knowing all the ins and outs of the process. Pets on Board – and my case worker in particular (I don't know if I can name them but they know who they are) – were able to make me feel so personally cared for and yet stay so professional throughout – a delicate balance and fantastic skill which is so rare these days.
I just wanted to say thanks again for everything you're great at your job and were very helpful i couldn't have asked for a better service.
I just wanted to say thank you for all your help with Frosty, especially for making sure he actually was able to get on the plane. He is settling in amazingly well, it's as if he was born in West Clare. He was also unphased by the train trip and it is wonderful to have him with me. Without your assistance, this would not have been possible. Thank you, from the bottom of my heart.
You can be certain, I will fly my dogs again thru your service and will spread the positive word.
I just want to thank you so much for everything you did in getting Millie back to Ireland.
I cannot rate this company high enough. I was Irish living in Canada and I wanted to get my two doggies transported home. From the moment I made contact they made the process easy and stress free. I was told exactly what paper work was required, and they helped with everything along the way.. I just dropped my doggies off and they handled everything from there. I got constant updates and calls to let me know they were doing ok and where they were located and what they were upto. It really put me at ease. I couldn't say enough good things about this company, thanks for all your help…
We had our Bichon Frise flown to Faro Portugal and as it was our first time and did not know what to expect, I must say that Siobhan made us feel at ease, our precious doggie arrived in good spirits, I cannot recommend these people enough here, they are excellent and would highly recommend them.
We had our jack Russell taken from Dublin to Toronto yesterday with absolute ease. The team are absolutely amazing at what they do, wallop arrived as if she had just been on a car journey. I could not recommend these guys enough. Thank you for everything you did!

Our dog lexi arrived on Friday in Vancouver from dublin. Pets on Board done an amazing job from start to finish. We cannot recommend them highly enough. They took any stress out of flying her over. We were nervous for her flying but when we got her she seemed really happy and was well looked after. Thank you for delivering our baby safe and sound.
Chris from Pets on Board was very helpful and professional. They organised airport-to-door transportation of our quite a large dog (approx. 27 kg) from Samara, Russia, to Maynooth, Ireland. Important to note that there are no direct flights from Samara to Dublin, and also you cannot ship the dog abroad from Samara at all, so they effectively did the whole logistics chain Samara-Moscow-Frankfurt-Dublin-Maynooth, including all the paperwork and inspections. The dog was in good shape and arrived to my front door a couple of hours after the flight landed in Dublin. Really impressed with the quality of service.
Our little bichon indie was picked up by Pets on Board in Dublin when she arrived from Perth yesterday. They were absolutely fantastic, they were so efficient and had her checked by the vet as soon as she arrived and we had Indie on the way home in no time. You could tell that the guys loved animals and completely understood how anxious we were putting Indie on such a big journey. We would definitely recommend Pets on Board to anyone flying their dog overseas, they are excellent. Indie is now happily settling into country life In Ireland!!
5 Star. Excellent Service! Excellent Staff! I highly recommend Pets on Board. Moving 13 pets from Malaysia to Ireland can be a logistical nightmare, however thanks to the Pets on Board staff, we are all safely in our new home in Leitrim. Not only were the staff extremely professional, knowledgeable and efficient at sorting everything out on their side in Dublin, but also managed to sort out issues that cropped up in Malaysia. Many thanks to the team for their wonderful service and taking care of our furkids.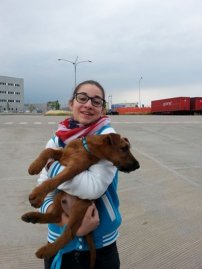 Hello, Just want to say thank you very much for all of your help over the last couple of months.You handled the export of Rufus superbly and answered all my questions and kept us right for everything. Rufus arrived in Venice yesterday evening,clean and full of beans.His new family were there to greet him and are absolutely thrilled to have him there finally after all the photos and messages going backwards and forwards. I would not hesitate to recommend you to anybody looking for an export service,yous have been superb. My client and Myself are very impressed by how smoothly the whole movement went and you are a credit to your company. I look forward to working with you again. Attached is a photo of him arriving in Venice Yesterday. Best Wishes,
Steve
As a dog breeder I have experience in importing and exporting dogs. Fortunately I use Pets on Board as my transport agent. This company is very experienced & competent and its paramount concern is for the welfare of the animals it transports, but it also recognises the anxiety felt by the owners. To this end the owners are informed of all the necessary regulations and restrictions involved in air travel, the possible airline schedules and delays that may occur. The owners are kept abreast of the progress of their animal's flight and when it lands informs them when the animal is safely collected at its destination. This gives great comfort to people, as I well know. Pets on Board personnel are most helpful, knowledgeable, and a pleasure to do business with, and obviously take much pride and satisfaction in their successful work.
Thank you to all at Pets on Board for all of your help with the transportation of my dog. I have been kept informed on his progress during his flight and am very pleased to hear that he is doing well. I would highly recommend this company to any one who wants to transport their animal to another country. Thanks again!
We had an excellent experience with your company. You were extremely communicative, keeping us well informed throughout the whole process. Hendrix was well taken care of and is happy and healthy back home Ireland. I would highly recommend you services to anyone one bringing their pet to America or Ireland. Really liked that you had a vet present in Ireland removing the need of Hendrix going to quarantine overnight. Thanks again.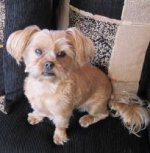 It's as if she flies every day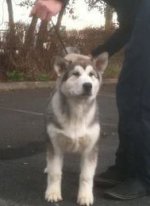 Thanks for keeping me updated about Mika the whole way…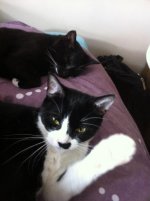 Snoopy and Liffey arrived in this morning. they're in great condition now! I miss them already, looking forward to see them. Many thanks to Pets on Board for all your kindness and quick process. Your service was fantastic!! I highly recommend Pets on Board to everyone who are looking for animal freight. Do not hesitate to choose Pets on Board. Thanks a million!
Hiya Chris, Stella Arrived safe and sound. Thanks a million 🙂 Thanks again for everything 🙂 Kids couldn't believe she was sitting on their beds this morning.
I want to take this opportunity to thank you from the bottom of my heart for all the help and care you gave to Rosie. You made sure that Rosie travelled hassle free. You went beyond the call of duty as far as im concerned as its the small things that count. I was so lonely after her as I brought her into this world and it was much harder than I thought to actually part with her. I was so glad when she arrived and she was bursting with energy after her long sleep. She has made a little girl very happy as Rosie was not able to travel from the North Pole as the weather had taken a turn for the worst, so Santa and Mrs Claus had to hold onto her and had to charter another flight to Bermuda as the reindeers were absolutely exhausted after the Christmas run. I was glad to be a part of this Bermuda surprise and i could not have done it without Pets on Board.
We transport pets. Call us today on +353 1 886 7700
Unit 4B, Santry Hall Industrial Estate, Dublin 9, Ireland
+353 1 886 7700
Mon - Fri: 9am - 6pm
Sat: Closed​​
Sun: Closed